Information
Ogasawara Islands (also known as the Bonin Islands) are located about 1,000km south of Tokyo.
Ogasawara Islands comprises 30 islands with over 2,300 residents living on the two main islands, which are Chichijima (meaning "father island") and Hahajima (meaning "mother island").
It is an environmentally unique place unlike any other you have ever encountered. Ogasawara is well known for diving, dolphin swimming, whale watching, sea kayaking and more.
CLIMATE
Ogasawara's climate is subtropical. We have strong northern winds between January and March. It's better to bring a warm jacket if you are planning to visit among these months. The weather starts to warm up from April. The best months are June to October. Both air and water temperature are nice and comfortable. The sea is also calm, and it's the best time for swimming with wild dolphins. The visibility of the water turns incredibly clear for a few months from July. Click here for the temperature chart.
HOW TO GET THERE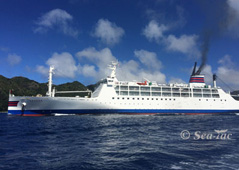 The only way to get to the islands is to take a ship called "Ogasawaramaru". It usually takes about 24 hours to Chichijima from Takeshiba (Pier), Tokyo and runs basically once every six days. (Click here for schedule)
PLACE TO STAY
Accommodations vary, with many options to suit your budget. Most places are located in the village. But if you prefer a quiet location, there are some located further away. Some of these accommodations provide transport for you. Accommodation fees include two meals a day. Make sure to book the place before you visit especially during the holiday seasons. No camping is allowed.
THINGS TO DO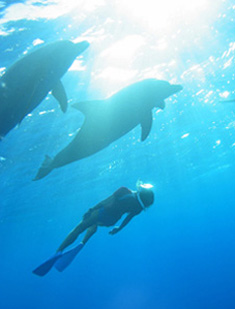 Dolphin Swimming and Whale Watching are the most popular activities. It's great fun. There are a few boats doing those tours.
Diving? No worries! Some diving shops have their own accommodations for your convenience.
If you are interested in Ogasawara's history and culture, the Visitor Centre is a place to go. Friendly staff will show you what you want to know.