Welcome to Sea-Tac web site
Have you ever dreamed of encountering these creatures in the wild?
Here is your opportunity for your dream.
Our highly experienced crew will lead you on a fascinating wild experience that you'll never forget, up close and personal with the marine mammals of Ogasawara's deep blue water.
Let's take a closer look.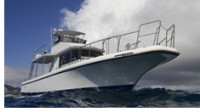 Join us to meet graceful whales and playful dolphins in the clear open waters around Ogasawara. This is a "once in a lifetime" opportunity to watch whales and swim with dolphins in their natural environment. This is not an aquarium type of experience. The animals are totally free and wild.