Sea-Tac's ECO Tour
Join us to meet graceful whales and playful dolphins in the clear open waters around Ogasawara. This is a "once in a lifetime" opportunity to watch whales and swim with dolphins in their natural environment. This is not an aquarium type of experience. The animals are totally free and wild.
OUR BOAT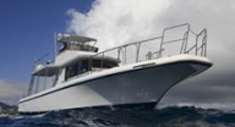 Our boat, "Dancing Whale", is about 42 feet long and custom built for cetacean encounters. We have been operating for over 30 years, and maintain a consistent policy of taking a small group ofpassengers out for close encounters with our marine friends.
We have seen at least 18 different species of cetaceans over the past ten years.
ECO TOUR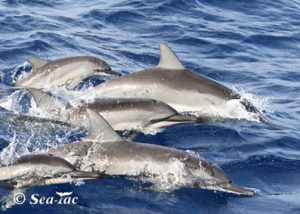 Our goal is not only to take you to swim with dolphins and watch whales, but also to help you understand more about them and their environment.
Our experienced and helpful guides who have been observing them for years are more than happy to explain what you see and also answer your questions.
Since our encounters are with wild animals, we are not able to guarantee cooperation from the animals or the weather. However, our success rate for encountering dolphins and whales for past years is consistently more than 90%.
DOLPHIN SWIM TOUR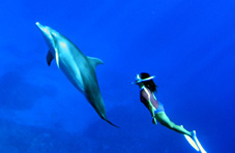 Our boat will take you out to blue ocean looking for dolphins.
When we find a party of dolphins, we carefully get closer and see what they are up to. When they're in a social mood, we quietly enter the water, and this is when the fun starts. They are some of most friendly marine mammals you'll ever come across.
They will come, check you out and play with you! No two encounters are ever the same.
The crew will also get into the water with you to keep an eye on the dolphins and you.
We're going to swim to Minamijima and walk around on the tour. If sea condition is bad, we can't go there.
HUMPBACK WHALE WATCH TOUR
Humpback whale watching tours are available between January and April. The whales are very large and exhibit many interesting behaviors. They stick their heads out of water to see what's going on, slap their tails, pec fins and so on. You will also be able to see the 30-ton whales jumping out of water if you are lucky.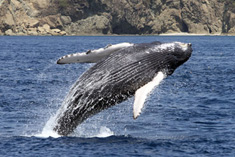 The whales come to Ogasawara to mate, breed and nurse newborn calves. They are also famous for singing. Mature males sing songs, which are believed to be "love songs" for mating. On our whale watching cruises, you will be able to listen to whale songs through our hydrophones.
We're going to swim to Minamijima and walk around on the tour. If sea condition is bad, we can't go there.
SPERM WHALE WATCH TOUR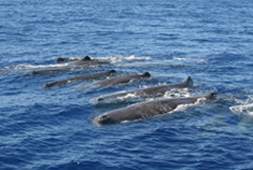 Between September and October, we go out a bit further in search of sperm whales. These large toothed whales hang out to feed in deep water from 10 to 20 kilometers offshore. On the way to the sites, we occasionally see other species such as pygmy killer whales, false killer whales, pan-tropical spotted dolphins and more.
During that full day tour, we're going to find dolphins around Chichijima in the morning or in the afternoon. And we're going to off shore to see sperm whales in the afternoon or in the morning. Our captain will also take you to shallow water for snorkeling among rich corals and fish. We don't go to Minamijima on that tour. If sea condition is bad, we have to change to the full day tour for dolphin around Chichijima, not off shore.